Okay, so it's been a year since my last NaNoWriMo post... or two posts, really. See it how you wish. It's been a crazy year.
Anywho!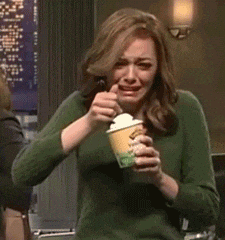 In the last year I have gone through a lot of development both as a write and as a person (no
seriously, you have no idea). And the year came around and all of a sudden I wanted to write again. Yeah, really, I had sworn off writing for the previous 11 months. This is a huge deal for me. I haven't had such a huge lapse in my writing since, well, since I first learned how to write. And let me tell you, I had a "Kiki's Deliver Service" moment.
You know what I'm talking about. That moment from our beloved Studio Ghibli classic when you come to terms with who you are and what you're capable of and you finally realize why you've been given the talents you've been given and stop binge eating ice cream?
Anybody?
Anybody...?
No?
Well, let mesa essplain dis to ju.
It's a pretty old-ish movie, but in case you haven't seen it:
SPOILERS SPOILERS SPOILERS SPOILERS SPOILERS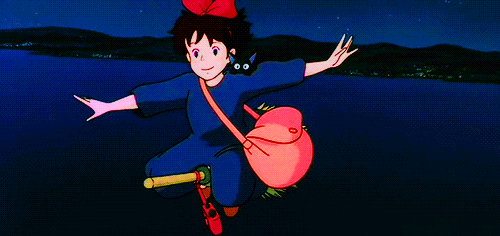 The movie is about a little girl, a witch who leaves home to be trained by the real world, essentially. She can barely fly, and doesn't know much about her craft, but she's 13! So, whoo-hoo, real world here I come!
Along the way she goes through a lot of twists and turns, makes friends, unmakes friends, looses stuff, gets insulted (like, a lot. This girl takes personal offense to pretty much everything) and generally starts doubting everything she ever believed herself to be. Her friends try to help her out, but nothing really seems to work until finally one of her friends (whom she has really only met once) stops by and offers to take her away on a vacation... of sorts.
They camp out at this friend's cabin, talk about art and talents and the purpose of life - you know, normal girly slumber party type stuff - and Kiki realizes that she really has no purpose in life, she doesn't even know why she flies or why she's a witch or anything.
Well, I had that moment for the past... year. Like all year. Like I said, binge eating ice cream kind of rough.
And then it happened! The moment when I realized that writing was sort of an answer to my prayers. I had almost given up on it, and instead turned to drawing as my sole means of creative outlet. Which, in and of itself is not bad - I mean, I've massively improved my art form - but something was missing, and I knew it was writing.
I thought I could solve it with comics. I decided to go crazy-go-nuts with the comics, but I just couldn't bring myself to finish any of my projects. My world had gone to crap, I felt lost, alone, talentless, worthless. Until I noticed that NaNo was wright around the corner.
I needed to finish my novel from last year's NaNoWriMo!
And with that one sentence came a wave of both excitement and dread. You have the "I'm going to write a novel!" Where you bounce off the walls and start doing sample writings and character sketches. And you have the "I'm... Going to write... A novel..." *gulp* "Please hold me and tell me that I haven't gone completely insane."
(As a side note, I'm also doing NaNoWriMo this year. So... 2 novels in 2 months. Wish me luck.)
So, yeah. It took working up a little bit of courage and several days of trudging through word much, going through the motions, and generally just trying to get a word count, but eventually I got in the swing of things. And now?
Now I'm 16 days and 21,000 words in. So, not quite half way through my goal word count... yet only 5 chapters in to a 29 chapter novel. Yeah, I'll have some work to do afterwards, wrapping up and what not, but it's totally doable!
Wish me luck.
Oh! And as an added bonus, here's some of the art I've been working on for the last year.
(these ones are actual artwork that I used for chapter images for Red as Blood - the book I'm working on.)